2016 Perkins Lectures: Leslie Griffiths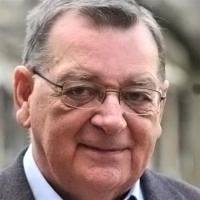 The Perkins Lectures proudly welcomes Rev. Dr. Leslie Griffiths, Lord Griffiths of Burry Port, for this year's event on February 28 & 29.
Leslie John Griffiths, Baron Griffiths of Burry Port, (born 15 February 1942) is a Methodist minister and life peer in the House of Lords, where he sits with the Labour Party.
Griffiths became a local preacher in the Methodist Church of Great Britain in 1963. He completed a Master of Arts in Theology at Fitzwilliam College, Cambridge in 1969, while training for the ministry at Wesley House. He spent most of the 1970s serving the Methodist Church of Haiti, where he was ordained, before returning to Britain to serve in ministries in Essex and Golders Green. In 1987 Griffiths completed a PhD from the School of Oriental and African Studies, University of London. He served as President of the Methodist Conference from 1994 to 1995.
Since 1996 he has been Superintendent Minister at Wesley's Chapel, London. He was created Baron Griffiths of Burry Port, of Pembrey and Burry Port in the County of Dyfed in 2004.
Like him on Facebook or read his blog!
For more about the Perkins Lectures, see About the Perkins Lectures and Previous Perkins Lecturers.
__________________________________________________________________________
The 2016 Perkins Lectures are now available to watch (or re-watch) and share on YouTube! Click here for the full playlist, including past Perkins…