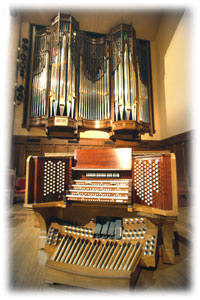 Every year in the Fall (usually the month of September or October), we invite a world-renowned organist to give a special concert on our 2003 Garland Pipe Organ. Sometimes the concert focuses solely on the music, but from time to time, it has featured silent movies. Either way, you will be thoroughly entertained!
These are FREE concerts, so you are encouraged to bring friends! You do NOT need a ticket to attend the concerts; seating is first come, first served.
For more information, contact Dr. Kiyo Watanabe, Organist: 940-766-4231, x231.