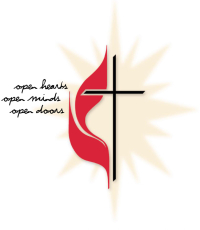 Interested in becoming a member of First United Methodist Church?
Want to know the requirements for becoming a member?
This is the page you need.
We are now offering "Join the Church" Sundays! People are welcome to join the church at the conclusion of the worship service on any Sunday.  Recognizing that walking to the front of the congregation may be a bit intimidating and a bit awkward, each quarter we are offering a Join the Church Sunday.  It will be an opportunity to unite with the church in a relaxed setting with a small group.  After a discussion of what it means to become a part of this congregation through our membership vows, the group takes the memberships vows together. Our next Join the Church Sunday is December 10.  We will meet in the Perkins Chapel at 9:30 am.  Please fill out a Membership Card before joining, which can be downloaded here or found in the Sanctuary pews. Contact Pastor Don Pellikan for more information.
Here are ways that you can become a member of First United Methodist Church:
By Profession of Faith and Baptism:A person who begins the Christian life does so through baptism, which is a symbol of God's grace through Jesus Christ. For a young person or an adult this also is an opportunity to profess one's faith. If God is leading you to this decision, one of the pastors will be happy to visit with you about this important step in your spiritual life. Upon baptism, you will be asked this question for membership, "As a disciple of Jesus Christ, will you support the United Methodist Church with your prayers, your presence, your gifts, and your service?"

We will be happy to baptize in any of these three ways:  sprinkling, pouring, or immersion.
Yes, we baptize infants and young children.  Why?

Baptism is first and foremost a sign of God's initiative, Prevenient Grace, in our lives. God has been inviting us into relationship with God from the beginning – one of the reasons we do infant baptism. God accepts us long before we accept God. Baptism signifies this.
Baptism replaced circumcision (Genesis 17:10-13) as the sign of the covenant with God. This is another reason why we do infant baptism. In Judaism, circumcision was typically done on a boy that was 8 days old. Whether or not that child would accept God's covenant did not matter. The important thing is that God offered the covenant. The same goes for infant baptism.
Baptism of infants and children is an ancient tradition that we believe took place even in New Testament times when whole households were baptized at the direction of the head of the household (see Acts 16:14-15; 16:30-33).

CLICK HERE to learn more about United Methodist beliefs about baptism.

By Transfer from Another Denomination: If you have been baptized into the Christian faith in another denomination, it is not necessary to be re-baptized to celebrate your spiritual growth. You will be asked this question for membership, "As a disciple of Jesus Christ, will you support the United Methodist Church with your prayers, your presence, your gifts, and your service?"
The church staff will handle the details of notifying your former church.

Why don't we re-baptize?
Since baptism is ultimately a sign of what GOD DOES, not what we do, the United Methodist Church does not think that re-baptism is necessary. God always upholds God's end of the covenant even when we do not. Baptism is God's gift to us, and nothing was wrong with it no matter where, how, or by whom it occurred. God has not stopped loving us.

However, we do encourage a Reaffirmation of Faith (see pg. 33 in the UM Hymnal) where one acknowledges again the gift God gave in baptism. We can reaffirm that gift – accept it again without going through it again.

By Transfer from Another United Methodist Church: Arrangements will be made to transfer your membership from another United Methodist Church. You will be asked this question for membership, "As a disciple of Jesus Christ, will you support the United Methodist Church with your prayers, your presence, your gifts, and your service?"
All of the necessary details will be handled by the church staff.

Affiliate and Associate Membership: If you are a United Methodist whose membership is in another city or state and you wish to retain that membership in your "home" church, you can become an Affiliate Member. This grants you pastoral oversight and full participation in our church, but you will not be added to the church rolls. Members of other Christian denominations may elect to become Associate Members under the same conditions.

---

From The Book of Discipline of the United Methodist Church – 2008:

¶ 217. When persons unite as professing members with a local United Methodist church, they profess their faith in God, the Father Almighty, maker of heaven and earth, in Jesus Christ his only Son, and in the Holy Spirit. Thus, they make known their desire to live their daily lives as disciples of Jesus Christ. They covenant together with God and with the members of the local church to keep the vows which are a part of the order of confirmation and reception into the Church:

To renounce the spiritual forces of wickedness, reject the evil powers of the world, and repent of their sin;
To accept the freedom and power God gives them to resist evil, injustice, and oppression;
To confess Jesus Christ as Savior, put their whole trust in his grace, and promise to serve him as their Lord;
To remain faithful members of Christ's holy church and serve as Christ's representatives in the world;
To be loyal to Christ through The United Methodist Church and do all in their power to strengthen its ministries;
To faithfully participate in its ministries by their prayers, their presence, their gifts, their service, and their witness;
To receive and profess the Christian faith as contained in the Scriptures of the Old and New Testaments.

If you have further questions or would like to schedule a time to join, contact Rev. Don Pellikan (dpellikan@fumcwf.org or 940-766-4231, x227).  Also, feel free to come forward during the last hymn of any church worship service to join.