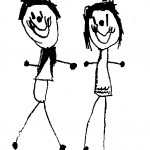 FUMC School for Little People Preschool is a child-centered program, based on the best practices of early childhood education.  Our philosophy is deeply-rooted in our conviction that children are gifts from God. They are worthy of our respect and our best efforts every minute we are with them. We are their guides as they discover and explore the world around them.
Our school is firmly play-based.  Our goal is to provide developmentally appropriate environments and activities that enhance learning and social interactions between the children. Students enrolled are involved in activities to promote social, physical, emotional, intellectual, and spiritual development.  Each classroom implements centers that include art, science, reading, writing, math, and dramatic play.  Special activities throughout the week include: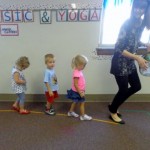 Music and Movement– classes attend music and movement at least twice a month, in addition to activities done within the classrooms.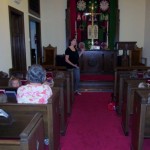 Chapel– classes attend chapel twice a month in which the Children's Ministry director leads the children in a short Christian lesson.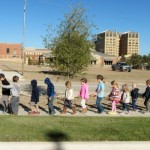 Field Trips– field trips are an important part of early childhood learning experiences. They are planned by the individual classrooms and are within walking distance of the school.
We believe that learning progresses from prior knowledge. Every child comes to us with preexisting experiences based upon their development and home environment. Continual observations and assessments help our teachers provide opportunities for creativity, discovery and self expression within the classroom environments. We are environment builders, but the children are our inspiration. (click on pictures to enlarge)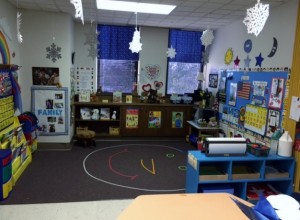 Three-year-old group activity area in classroom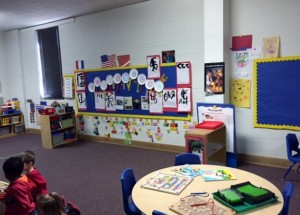 Four-year-old circle time area in classroom
Our Preschool is available for students ages 1-5. In accordance with the Texas public school age requirement, the child must be the age of the class he/she wishes to attend before September 1st. For example: a child wishing to enroll in the two-year-old class must be two years old before September 1st.
Preschool is open Monday through Friday. Preschool class begins at 8:30 am and ends at 3:00 pm. Half Day is available for pick up at noon. Before School care is available at 7:15 am.  After School care is available from 3:15-5:00. School closes at 5:15 pm.
Half Day Schedule (Noon Pick-Up)
| | |
| --- | --- |
| Time  |  Activity  |
| | Child Arrival and Independent Activities |
|  10 min |  Opening/Line Time |
|  15 min |  Circle Time |
|  60 min |  Centers/Small Group Time |
|  15 min |  Snack Time |
|  15 min |  Circle Time (science and math activities) |
|  30 min |  Outdoor Time |
|  15 min |  Circle Time |
|  10 min |  Closing/Reflection |
Full Day Schedule  (For children staying until 3:00 pm and After School)
| | |
| --- | --- |
| Time  | Activity  |
|  30 min |  Lunch Time  |
|  15 min |  Read Aloud/Book on Tape |
|  Max 1.5hrs |  Rest Time |
|  15 min |  Movement/Music |
|  15 min |  Circle Time/Dismissal for 3:00pm/Transition Time |
|  15 min |  Snack Time |
|  30 min |  Outdoor Time |
|  30 min |  Centers |
|  10 min |  Closing Reflection |
Generally we follow the calendar for the Wichita Falls Independent School District, with the school year typically running from mid-August through late-May.
Here is information on what to look for from NAEYC: 10 Signs of a Great Preschool
For more information, contact the school office at 940-766-0575.