INDOOR FACILITIES are child-centered, child-sized, and child-friendly. When weather does not permit outside play, the Atrium — a large indoor area found on the first floor — is used for recreation.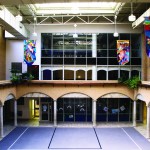 (click on picture to enlarge)
THE PLAY PARK at the corner of 11th and Travis Streets was designed by world-renowned playground designer, Jimi Jolley. Church volunteers built the park in 1992, under Mr. Jolley's supervision. It was updated for safety in 1996 and is continually monitored and maintained by our wonderful School for Little People parents.  Incorporating the latest elements of playscape design at the time, it is composed of active and quiet zones. In the quiet zones, water, sand, art and gardening areas are alive with open-ended materials. In the active zone, children may ride on pathways, climb on the climbing structure, swing on the swings, and enjoy togetherness.
It has been over 20 years since the swings and climbing areas of the park were built. Over the years we have seen and patched up the wear and tear, but now major rebuilding is needed.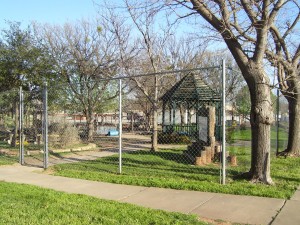 (click on picture to enlarge)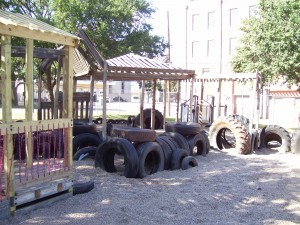 (click on picture to enlarge)
Outdoor play provides so many benefits for children including expanding physical motor skills, social and language skills. Research reveals that outdoor play supports the development of cognitive skills, curiosity, observation skills, and spatial awareness. So after much research, we have come up with a park plan that will meet both the physical and mental challenges for our children.  We want to create a unique outdoor space that offers endless possibilities for discovery, a classroom in the great outdoors.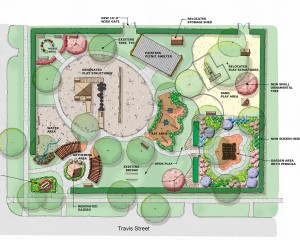 (click on picture to enlarge)
To accomplish these changes, we need your help! A brick can be purchased for you, your family, a business, to commemorate a special occasion or to honor or remember a special loved one.Through the linked website below, you can order the brick in one easy step. Your engraved brick will be integrated into the pathway around the playground to be enjoyed by our community for years to come!

http://polarengraving.com/SchoolforLittlePeople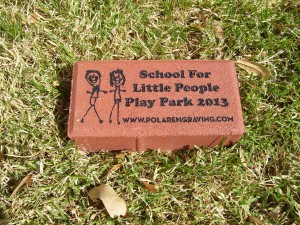 There are other ways you can support this project! Just contact the school office at (940) 766-0575 for more information.